Miracles, Light Bulbs, and What??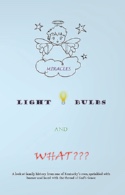 by:  Karen Borders Weaver
Miracles, Light Bulbs, and What?? is Karen Borders Weaver attempt to share this small glimpse into her family's lives interesting and fun. Her brother RG and she began this adventure in writing in 2012. In 2014, he and our Mom and his mother-in-law all passed from this life within an eight week period. He was a good, honest man that went to his heavenly home at 64 years of age unexpectedly from pancreatitis. We do not always understand why life takes the turns it does, but I do know that all three of these precious people were ready to step into eternity and I am thankful to know in Whom I trust for today and tomorrow. My prayer is that the thread of God's Love and his Grace will touch your heart as you see it entwined within the hearts and lives of our family.
978-1-59684-995-2
Retail price: $12.00
(Click on the book cover image to buy it now!)